Hotel and Travel Information
Lodging and Conference Venue
The Radisson Hotel will serve as the primary lodging location for the conference. The conference venue will be located at the Lansing Center which is connected via a sky walk to the hotel.
Hotel reservations can be made online at: https://www.radisson.com/scits
You may also call 1 (800) 333-3333 and book your room using STS519 code.
Parking Information
The Radisson Hotel offers valet parking for $20/night.
North Grand Parking Ramp
The North Grand parking ramp is a 24 hour parking facility is adjacent to the Radisson Hotel. Fees are charged 8am -11pm (Monday to Friday) and all day on weekends. Access to connecting the ramp to Lansing Center is available on the third level.
Hours: 24 hours Rate: $1 per half hour/$10 Daily Maximum $7 Flat Fee per entry per day on Saturday - Sunday Cash & Credit Cards: Accepted
Lansing Center
Parking lots under and north of Lansing Center are open 24 hours a day, Fees are charged from 5 a.m. to 11 p.m., Monday through Sunday. Cash and credit cards are accepted at the entrances and exits.
Pay-on-foot machines are also available in the lobby of Lansing Center and the parking level of the building. The pay-on-foot machines may be used to pay for parking in the lots located north and under Lansing Center. Pay-on-foot machines will accept cash, coupons or credit card payments.
Hours: 24 hours Rate: $7 flat fee, per space, per entry, per day. Cash & Credit Cards: Accepted at entrance or exit.
Lansing Center- Permit Parking
A 24 hour permit parking lot is adjacent to Lansing Center. The lot is available to the public after 6pm on Monday to Friday and all day on weekends (Saturday to Sunday).
Hours: 24 hours Rate: $7 Flat Fee Cash & Credit Cards: Accepted
Please call the Parking Services office 517.483.4240 or e-mail the Parking Services office at [email protected] to make parking arrangements for your event.
Visit Lansing.org/map-it for additional parking information, including maps and construction updates.
Getting to and from the Conference
Train
The Amtrack station is right on MSU campus, about 3.5 miles from the Conference Center. It is a 3-4 hour trip from Chicago's station. More information here.
Bus
The Greyhound bus station is at the same location as the Amtrak train station in East Lansing. It is a 6-7 hour trip from Chicago. There are several Greyhound stations in Chicago — the main one is on 630 W. Harrison Street, which is 4-5 blocks from Union Station. There is another Greyhound station right at Union Station (225 Canal Street). A list and map of all Chicago Greyhound stations can be found here.
An additional option is to utilize both Amtrak and Greyhound services in planning your trip.
If you plan do some sight-seeing while you are here in Michigan, there are many Greyhound stations throughout the state (please see "Visiting Michigan" page for a map of Greyhound locations in Michigan).
Airports
Driving
If you plan on driving from home or renting a car at the airport, the map below displays various routes to do so.
This is another good option if you plan to travel around Michigan while you are here.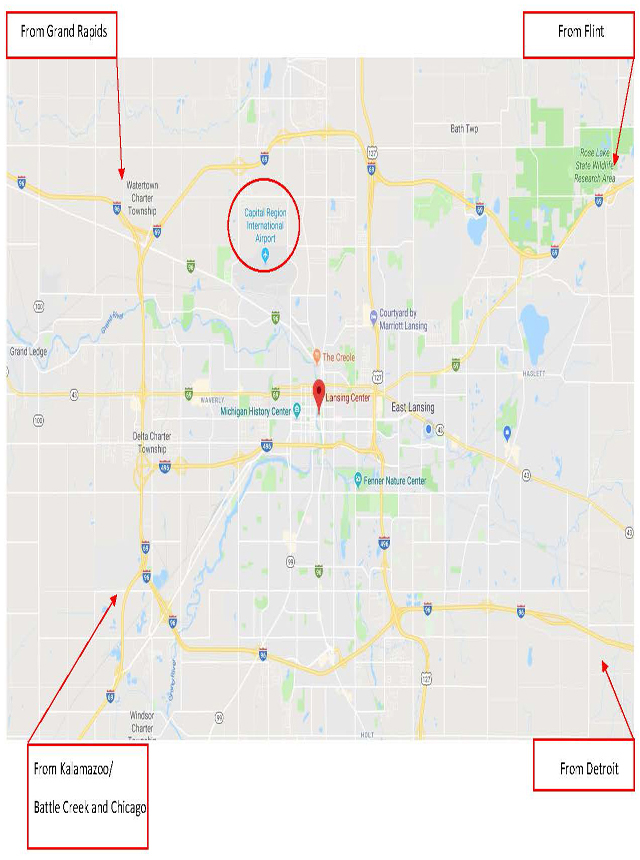 For a written description of directions from the Capitol Region International Airport in Lansing or other major cities, please visit the Lansing Center travel page here.